Art Seymour, the pioneering mind behind the Share The Magic project currently in operation within Odumase Krobo, Ghana, attributes his "passion for glass" to a very early childhood memory. As an impressionable 5 year old, Art enjoyed nothing more than visiting his grandmother's house, particularly due to the fascinating array of curios she had accumulated through her lifetime. One of these would instill an obsession, that later became his sole purpose for breathing. That object was a paper-weight. One of the prism-like desk variety, that most will have at one point or another seen in antique, thrift or charity stores gathering dust.
Fascinated by the intense colours, light refraction and almost "edible" richness created by the colored glass, Art would later find his childhood memory becoming sole inspiration for reviving a long-considered dead art-form - Chevron bead-making.
For those unfamiliar with Chevron beads; they are a product of the merchant trade era, originally produced within Venice, and transported to Africa by merchants plying trade en route to bigger destinations such as the Americas. A type of African trade beads, they are created using the 'cane technique', that is, the adhering of several long glass canes in a step-by-step manner, to create star and stripe beads of magnificent colorings. Such beads became a treasure for the people of Ghana, during a period when Venetian trade beads were regarded as more than just pretty jewelry objects - they were currency!
Art Seymour commenced a revival of Chevron bead-making from his own workshop in Nevada. Already producing Murano-like pieces for ornamental purposes, his expertise led to the experimentation with the cane technique. As word of his expertise spread, so too did interest in his wares for retail, prompting yet another inspiration. Taking Chevron bead creation, back to the country who still regard these beads as treasure. That country was Ghana, and so, the Share The Magic Project was born.
Partnering with an extremely well known Ghanaian bead 'master' known as
Nomoda E. Djaba (Cedi bead factory), Art Seymour set about refining a bead production process in 2008, that would utilize the present powder glass bead-making methods currently used in Ghana. The process created brand new molds, setting and cooling techniques through trial and error with two engineering associates on-hand for scientific purposes. This refinement then saw the first of two phases completed, as the lab was packed up and taken to Ghana.
The second phase of Share The Magic Project in March 2008 was funded by the sale of Seymour's bead creations (many limited edition.) The trip was focused upon the building of a "hot glass facility" and education center at Odumase Krobo, that would allow the teaching of Seymour's learned techniques. So the 'Hands Across The Water' phase of Share The Magic was rolled out, and is still in operation today, teaching and providing Ghanaian citizens with the skills to produce stunning multi-colored Chevrons, that are now again, as collectible and prized as they were in the 19th Century!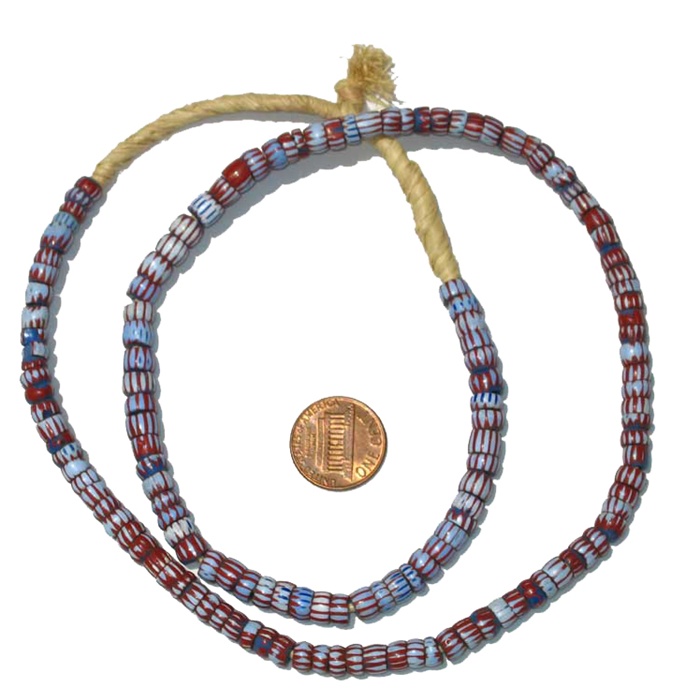 One very popular type of chevron trade beads are antique awale beads. These old trade beads are usually light blue with brown and dark blue stripes. In relativity to other chevron beads, awale are relatively cheap, typically running you $23 - $49 a strand. Not bad compared to other chevron trade beads, which can run up to $3,000 per bead!
Many people ask us why these beads are called awale (some people spell it awalleh). To be honest, I'm not quite sure. But this is the name that is used by most African traders in the states.
These beads were most likely made in Venice sometime in the 19th century, or very early 20th century. Most of the time, they are found in good condition, but some beads can be cracked or chipped due to age. These trade beads are said to hold some kind of mysterious and romantic connection to the past. The beads measure anywhere from 4mm - 10mm in diameter, and there are usually anywhere from 100 - 180 beads per strand. Some strands run about 24" in length, but they can measure as large as 32" in a strand (if you're lucky).
Chevron trade beads are often the most desirable beads for trade bead collectors. The reason why: the precision and detailed required to make these beautiful handmade, layered glass trade beads. There are all kinds of Chevron beads. These classic trade beads are also known as "Star" and "Rosetta" beads. Originally made in Venice in the late 15th Century, they are still handmade in limited production today.
One of the most beautiful types of Chevron beads are the Yellow Jacket Chevron beads. As you can see above, these trade beads are black with yellow stripes, very much like yellow jacket bees. Most of these Yellow Jacket Chevron traveled in the African trade, hence their classification under African trade beads.
Yellow jacket chevron beads are very difficult to come by, and can run anywhere from $12 per bead, to $600 per strand. These are the ultimate treat for any bead collector!